Students held a robust club fair to introduce and recruit members for new and existing clubs and organizations for the 2019-20 school year.  The organizations have an application process and recognize students who excel in various disciplines. The clubs were all proposed by our students, are open to all students, and are student run under the guidance of adult moderators.  Kudos to our Belles for having so many interests and sharing those interests.  Sign-up lists were overflowing!
Since 2002, ACE Los Angeles has enabled over 1,500 high school students to discover the exciting potential of careers in Architecture, Construction and Engineering (ACE). ACE brings Architecture, Construction and Engineering professionals into high schools twice a month to teach students and mentor them. Mentors are from nearby architectural, engineering and construction firms. A typical team matches half a dozen professional mentors with two dozen students in grades 10 through 12. They meet after school every other week, approximately sixteen (16) times during the academic year.  Their scholarship program has grown, and to date, they have awarded over $1M in scholarships to local ACE students in support of their pursuit of A/C/E careers.
Members of the Student Leadership Council foster a spirit of servant leadership at SMA, were leaders serve a positive examples of responsibility and SMA character for the student body, SLC is comprised of who want develop their leadership skills as positive, selfless, respectful, and reliable leaders who will encourage others to engage in campus life and do so with the charism of the CSJ Sisters. SLC is open to rising sophomores, juniors, and seniors only. To learn about other requirements needed for each position and to be considered eligible to run for a position students must attend a mandatory leadership training in the spring and receive favorable evaluations of character and work ethic from faculty members.
Carondelet Circle is about building a community of people who want to "serve the dear neighbor" and find strength in sisterhood. This clubs is the spiritual life blood of SMA. Students lead and plan liturgies, retreats, service opportunities, and other opportunities for the spiritual growth of students. We will walk in the footsteps of our founders, the Sisters of St. Joseph of Carondelet, by praying together, visiting our CSJ sisters at the convent or writing them, participating in bible study, making sandwiches for the poor, and other community service events.
Student Ambassadors help recruit new students and families to SMA and represent the school for Alumni and Donor events, allowing students to develop leadership habits and provide an opportunity for young women to gain appreciation and awareness of multicultural perspectives, customs, public speaking, critical thinking and decision-making skills. Student must apply to become an Ambassador. Applicants must have (and maintain) a cumulative GPA of 3.0 or better to become eligible, submit a letter of recommendation from a campus faculty and/or staff member with their application, and complete an interview with the Admissions Director.
SMA Today is a student-run organization & broadcast news outlet featuring original reporting, editing, interviewing, and writing. BY SMA students, FOR SMA students!
The National Honor Society (NHS) recognizes students who have demonstrated excellence in the areas of scholarship, service, leadership, and character. The organization has been committed to four main goals since its inception: to create enthusiasm for scholarship; to stimulate a desire to render service; to promote leadership; and to develop character in the students of secondary schools. These are the criteria used to select members, which is done by a faculty committee. Members of CSF and NHS at SMA join forces to support an academic culture and to provide academic support to their peers through mentoring and tutoring. The mission of the California Scholarship Federation (CSF) is to recognize and encourage academic achievement and community service among middle and high school students in California. Members qualify by meeting eligibility requirements based on their grades each semester. Members of CSF and NHS at SMA join forces to support an academic culture and to provide academic support to their peers through mentoring and tutoring.
National Art Honor Society inspires and recognizes those students who have shown outstanding ability in art. Students must have 1 year of a visual arts class with a grade of B+ or higher as well as a cumulative GPA of 3.0 or higher to apply.  Its purpose is to assist student members to attain their highest potential in all forms of art, and to raise awareness of art education throughout the school and community.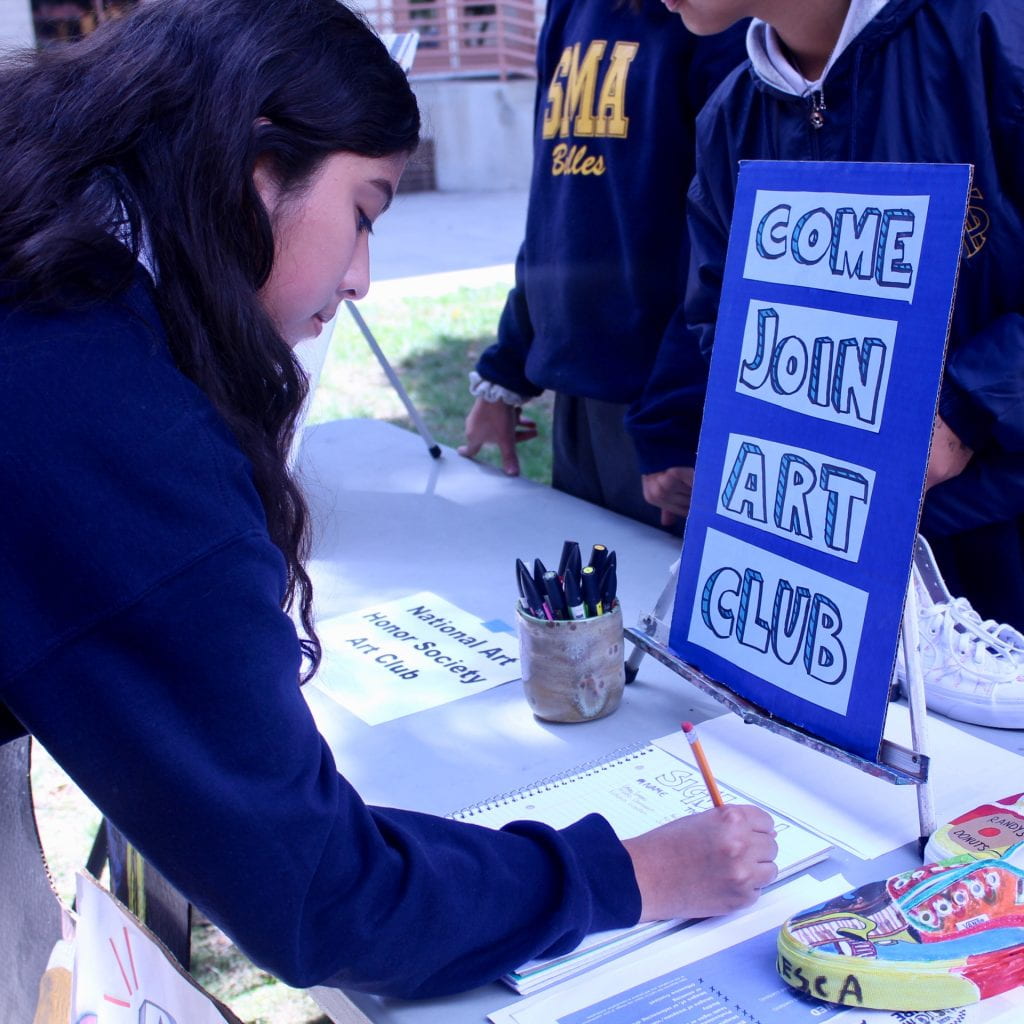 Art Club is open to all students, regardless of artist skill or experience. Members of NAHS will host an art club where they will provide opportunities for students to learn to build their art skills.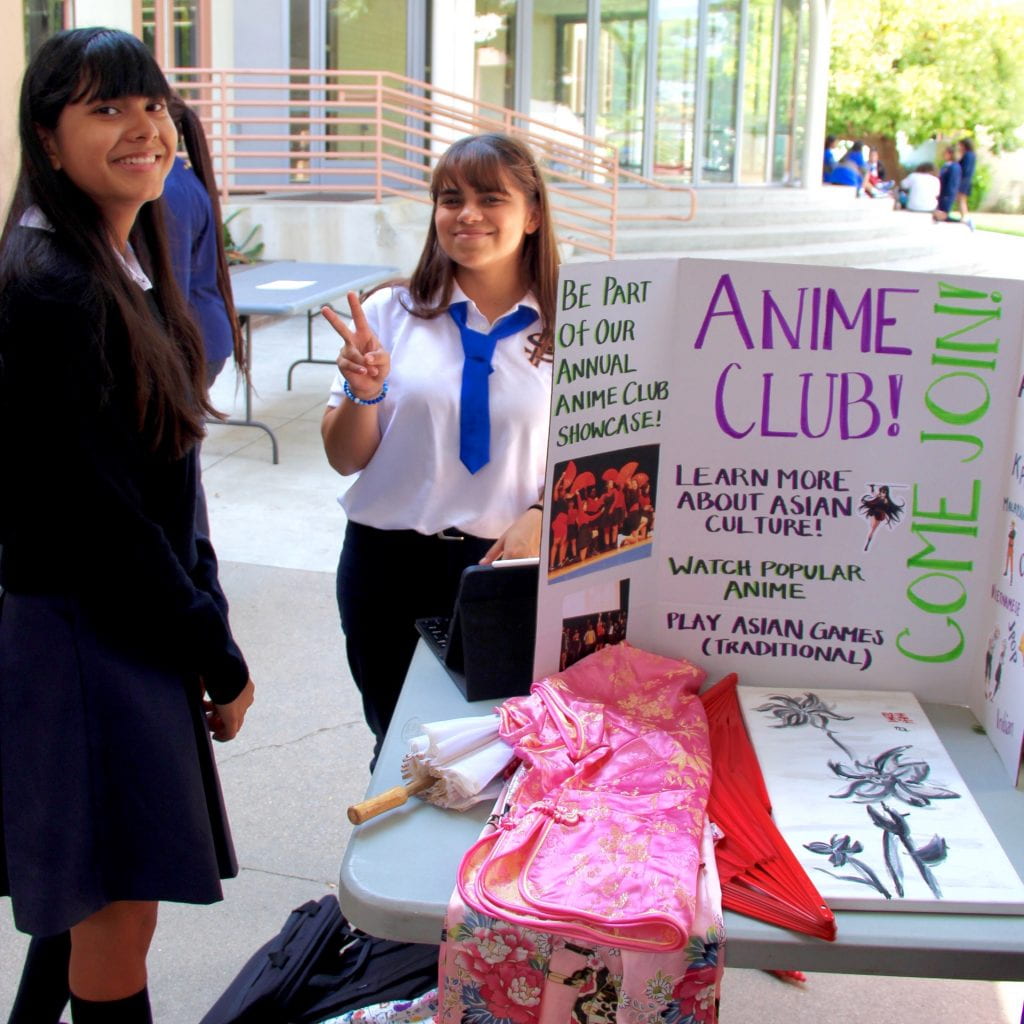 Anime Club is a special interest club where students can bond and learn about anime-related media, art, literature, music, popular culture, and social activities and the cultural contributions of those who produce Anime. Anime Club members also have a prominent role in producing the Asian and Pacific Islander Heritage Assembly in the Spring.
Believers' Club is a student-run club who participates in various walks/events or raises money for organizations and foundations dedicated to cancer research and support for cancer patients.
Young Entrepreneurs aims to enable young women in developing professional skills in the workforce  prepared and empowers them to create their own business. This club will encourage girls to become innovative and invest in their human capital.
Culture Club gives Belles the opportunity to learn about the many cultures that exist around the world, especially those that students are unfamiliar with, and educate themselves on what makes each culture special and unique. Learning about other cultures can also help us reflect on our special culture at SMA, including the Christian values and sisterhood we have. Being informed on what else is out there besides what we're used to will make us become more well-rounded, and help us work better with others who may not have the same beliefs as we do. The United States in itself is a melting pot full of an immense amount of cultures, and learning to respect each other and our values because of our similarities and regardless of our differences will help us work together as a community.
Global Citizens Club promotes the importance of being an active global citizen, and inspires awareness and learn how to advocate against injustice happening in other countries. It will also encourage others to travel and will help with more youth exchange program awareness. Furthermore, it will give a background on different countries.
Book Club strives to have fun and bond over a love of reading. This club will give students the chance to come out of their shell and connect with fellow bookworms.
Writing Club introduces students to different types of creative writing, encouraging them to have fun with writing and use it to explore new talents, relieve stress, and express themselves in new ways.
Health & Wellness Club seeks to promote better health and safety habits of the student body, as well as promote club member participation in community events and projects that better the health, safety and welfare of the community and our families.
The FUTURE (Future Understanding Through Unity Reflecting Environment) Club aims to educate our Belles regarding environmental issues and our stewardship of God's creation. The club hopes to bring out a respectful and loving attitude toward nature within the minds of St. Mary's Academy students and faculty.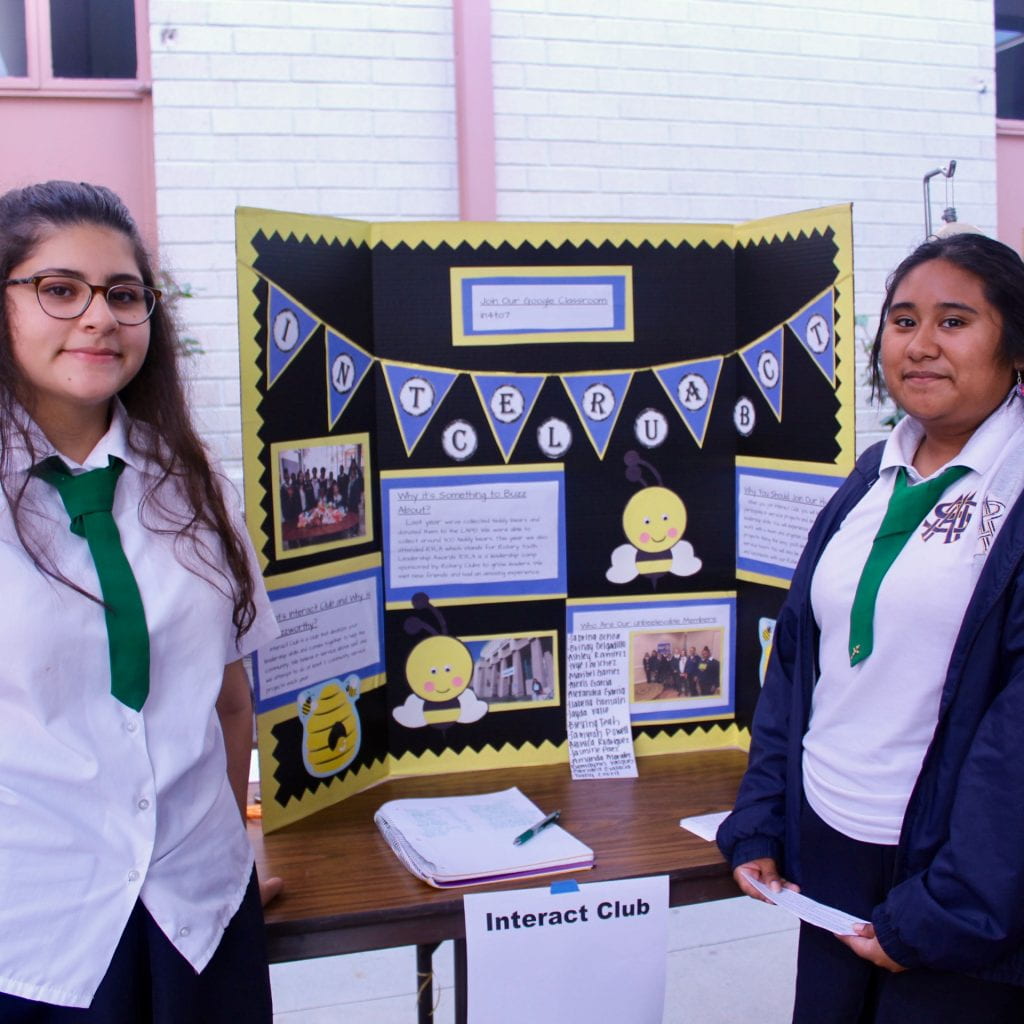 Interact Club is associated with the Rotary Club of Inglewood. We are a service organization that promotes charity and goodwill to our surrounding community.
FIDM Fashion Club exposes students to the fashion industry and learns about different fashion tips/hacks. Fashion club members talk about trends, careers in the fashion industry, attend Fashion Club Day at FIDM, create different outfits, and have mini fashion shows.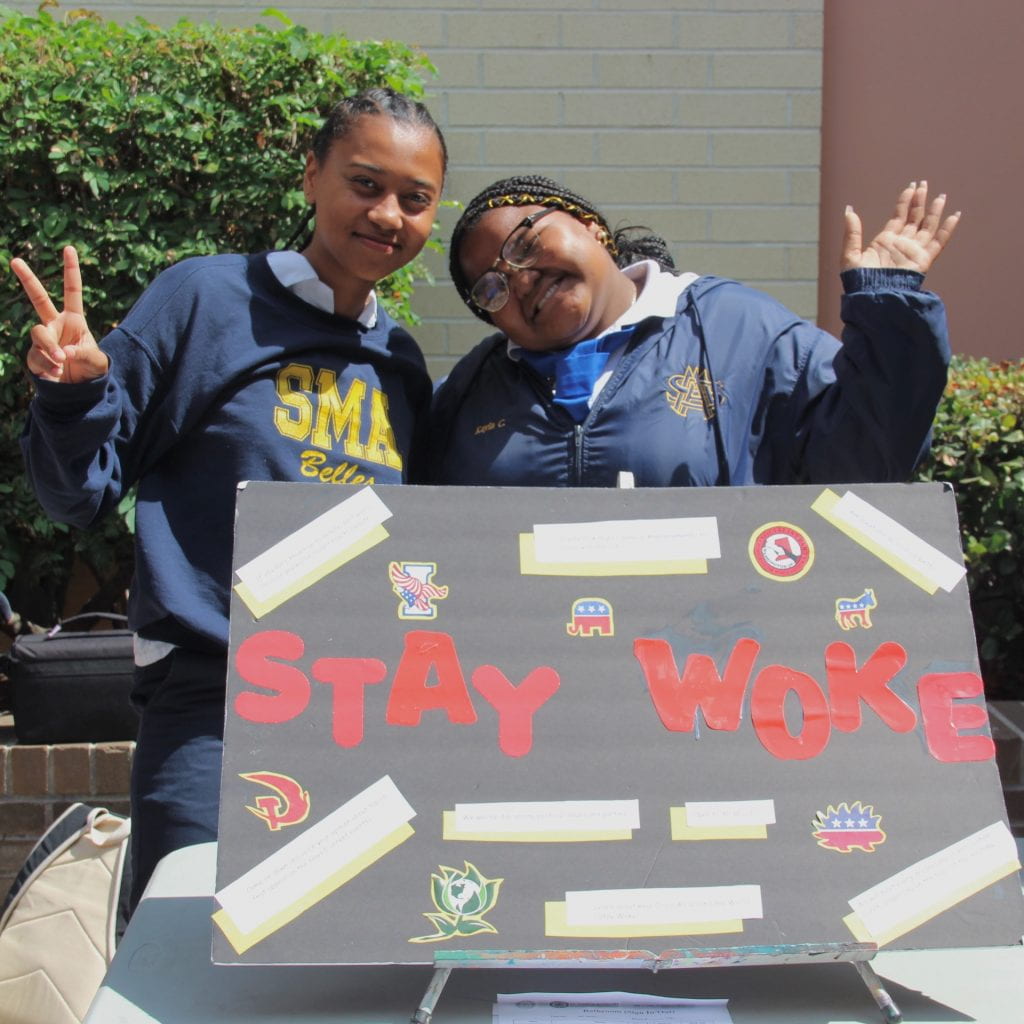 Participants in Debate Club learn statesmanship as they engage in structured debate and discourse on a variety of topics. They cultivate leadership skills, challenge one another to think critically, advocate their own opinions, develop respect for opposing views and learn to rise above self-interest to created and informed citizenry and promote the public good.
The SMA Robotics Team, SMArtBots combines the excitement of a varsity sport with the rigors of science and technology. The Robotics Team provides SMA students interested in all academic areas the opportunity to compete in the FIRST®FRC international competition. Under limited resources, time limits, and strict rules that change every year with a new game, SMA students design and build a robot that competes in a regional tournament with a field of top competitors.