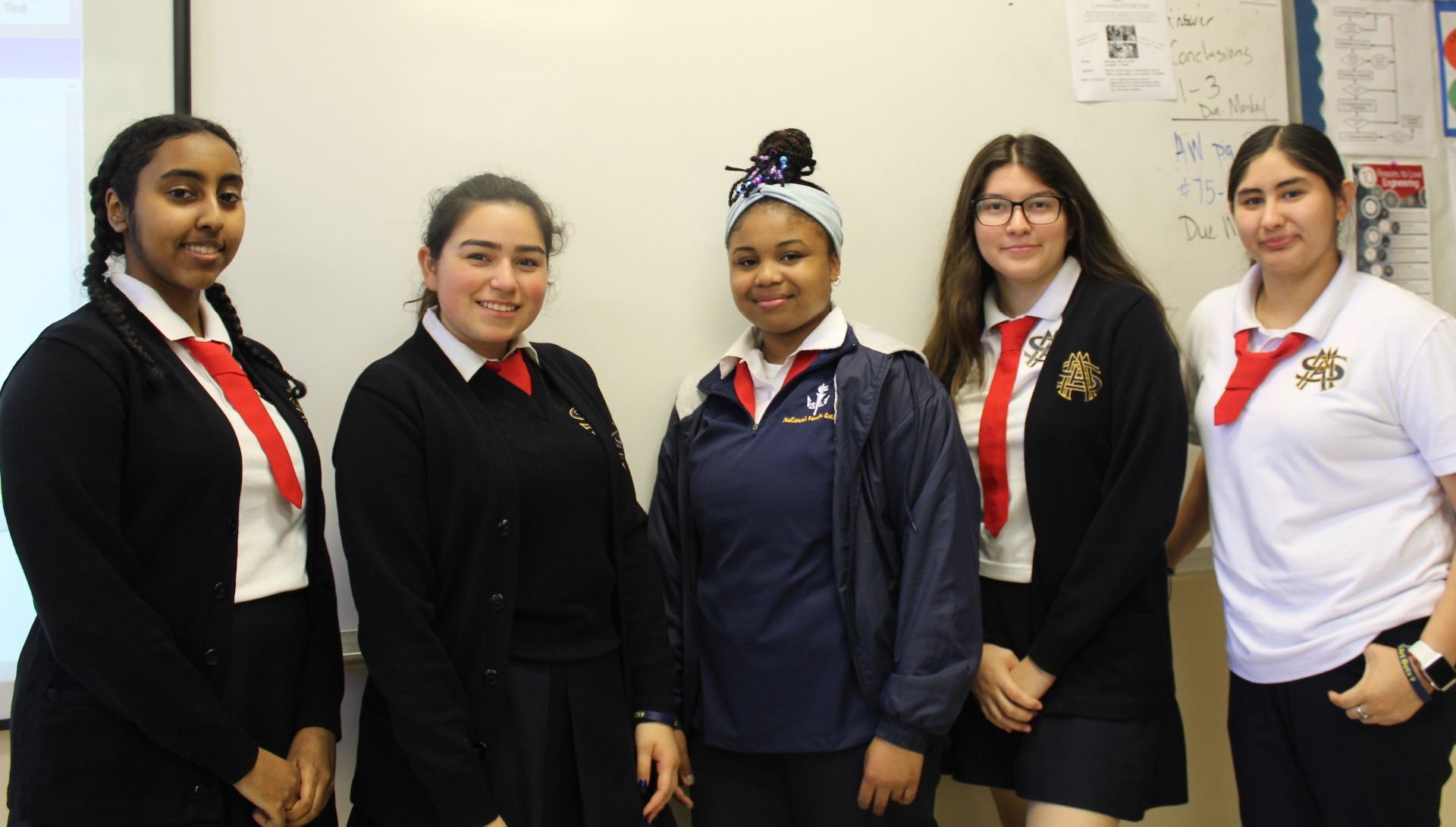 This summer six of our Belles will be attending engineering enrichment programs across the country!  The scholarships total about $9,400 for all attending (this includes tuition, transportation, room & board, food, etc). Four students applied through the ACE Mentorship Program.  ACE partners with 20 schools throughout the Southern California region and mentors over 300 students. Having four of our Belles chosen from ACE is very impressive. Two students that will be attending the EPIC (Engineering Possibilities in College) Summer program at San Luis Obispo were also given scholarships. There were over 1,000 applicants to that summer program, so it was quite competitive.  We're so proud of our engineering students for putting themselves out there and using their summer vacation to further their education!
Rebecca and Oceanna will be attending CREATE Summer Academy in Sacramento.  Students from across California will come together to experience a six-day, five-night camp that exposes them to careers in construction, re-development, engineering, architecture, and the trades. Students will design and build a project for a local nonprofit, complete a needs assessment, meet industry executives, tour active job sites, explore Sacramento, and stay on a university campus.  Thank you to ACE for providing the scholarships for these two students, including transportation.
Heaven will be attending Design Immersion Days at SCI-Arc this summer.  DID is an immersive four-week summer program that introduces high school students of varying backgrounds to the academic and professional world of design and architecture.  Participants are offered the opportunity to explore careers in architecture and design or simply satisfy deep curiosities about how products, buildings, and environments are designed and made. The culmination of the DID program is a one-day comprehensive portfolio workshop, which is designed to introduce beginning design students to the concepts, techniques, and strategies necessary to complete a successful design portfolio.  Thank you to both ACE and SCI-Arc for providing scholarships for this program.
Meron will be attending CU Denver CAP ACE summer camp. She'll be joining the College of Architecture and Planning for a week-long residential summer camp at the University of Colorado Denver. Faculty from CU Denver's architecture program will lead an investigation in design, digital fabrication, and sustainability. Students will build from their own design and get to know other students from ACE Mentor programs in the West. Campers will stay at Campus Village, CU Denver student housing. They will use the Design Fabrication Lab and studio spaces at the College of Architecture and Planning. Undergraduate Admissions will host a presentation about applying to CU Denver, so students leave camp with an understanding of what it takes to become a CU Denver student. Thanks to ACE for providing a scholarship for tuition and transportation.
Ashley and Kimberly will be attending EPIC summer program at Cal Poly San Luis Obispo.  EPIC– Engineering Possibilities in College – is a one-week summer camp that introduces campers to the varied fields of engineering through hands-on labs taught by university professors and industry professionals.  EPIC campers see "Learn by Doing" in action as they participate in labs where they design, build, and test their own projects! Campers build rockets, create Android phone apps, develop a solar car, and learn about computer security. EPIC shares the College of Engineering's mission to "educate students for careers of service, leadership, and distinction in engineering or other fields by using a Learn by Doing, hands-on approach."  Thank you to EPIC for providing scholarships for these students.
We're so proud of ALL of these Belles and can't wait to hear about their experiences this summer when we return. Thank you again to ACE for providing such great mentorship and fantastic opportunities for our students.  Here's the presentation from the ACE Student Presentation Day and Scholarship Award Ceremony on May 12, 2018.  Our Belles presented a new SMA campus!
SaveSave
SaveSave
SaveSave